OUR 2022 NATIONAL OFFICERS
The VBMA National Officers are veterinary students that volunteer their time to run the organization at the national level. As a team, the board is responsible for maintaining relationships with our generous sponsors, ensuring regional leaders and chapters have the resources they need to thrive, and carrying out the day to day operations. National Officers are chosen each spring and carry out a half year term as a national officer-elect and then a full year term as a national officer.
Madison Baumgartner
PRESIDENT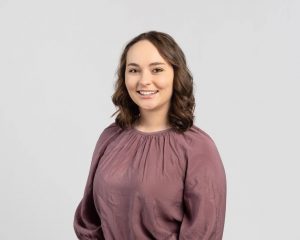 Madison Baumgartner is a 2nd year at the University of Minnesota College of Veterinary Medicine with an emphasis on mixed animal medicine. She grew up on an angus cow-calf operation in Bismarck, North Dakota and earned her B.S. in Veterinary Science at the University of Minnesota-Twin Cities. In high school, she was very involved in Future Business Leaders of America (FBLA) and that is where her passion for financial literacy and entrepreneurship blossomed. Immediately upon learning about VBMA's mission, she knew this organization was special and exactly where she belonged. At her local chapter, she holds the director of marketing position, and she is honored to be serving you all as the 2022 National President. Her plans include continually advocating for business education within our veterinary schools and getting to know all the wonderful VBMA members. Upon graduation, she hopes to own a veterinary practice in rural America and possibly become a certified acupuncturist. Outside of the veterinary world, she is very passionate about traveling and exploring. She's had the opportunity to travel to Italy, England, Hawaii, Alaska, Chicago, and Washington D.C. If only her cat, Luna could tag along on the adventures!
Joe Thurston
VICE PRESIDENT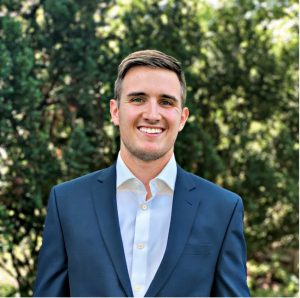 Joe attends the University of Wisconsin School of Veterinary Medicine in the class of 2023. He is originally from Rice Lake, a small town in northern Wisconsin where his family has lived for four generations. A Labrador Retriever with a sock addiction that required frequent foreign body surgeries helped him to discover veterinary medicine, a passion that continued to develop throughout his undergraduate degree at the University of Minnesota. He always had an eye on business education, minoring in management at Minnesota, but it wasn't until getting to vet school and interacting with the VBMA that he realized the breadth and importance to every veterinary student. Having a basic understanding of veterinary business operations helps students become better veterinarians and personal finance is as important to achieving large life goals as being competent at medicine. He is grateful for the opportunity to serve on the VBMA National Board and hopes to continue the VBMA's tradition of helping to create well-rounded veterinarians. He is also excited to get to meet and interact with the driven and enthusiastic VBMA members at chapters around the country. Outside of vet school he loves playing, coaching, and watching soccer (especially getting up at 6am to watch Manchester City), supporting the Green Bay Packers, spending time at the lake, and baking and/or eating anything sweet.
Delaney Romaniello
TREASURER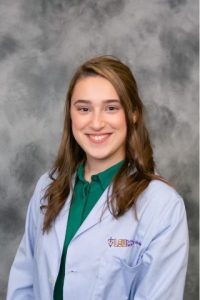 Delaney is the 2022 National VBMA Treasurer and a second year at Louisiana State University. She is excited to jump into her role on the national board and work with the chapters to make their events possible. She decided at age six that she was going to be a veterinarian, and every educational milestone has lead her to LSU to complete the journey. When she got to LSU she joined her local VBMA chapter because every upperclassman she spoke to across the country recommended joining the business club above all others. She applied for their executive board and was appointed as their treasurer – an intimidating position, but one that she has managed to take in stride and excel at. She will start 2022 as her chapter's vice president and is excited to experience another side of being a VMBA executive member. When she was appointed to the national board as their 2022 treasurer Delaney was just as – if not more – nervous to take on the role. With the help of her fellow executive members and Courtney she is learning the ropes and is excited for what will come in the next year.
Kyleigh Tyler
BUSINESS CERTIFICATE DIRECTOR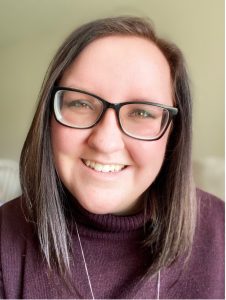 Kyleigh is a third year veterinary student at The Ohio State University College of Veterinary Medicine. She is originally from Ogden, Utah about 40 minutes north of Salt Lake City. She earned her B.S. in Animal Science from Utah State University. While initially drawn to veterinary medicine by general practitioners, Kyleigh is currently interested in pursuing a career in pathology and research, and believes VBMA is valuable to all veterinary students, even those who are pursuing a non-clinical path. She has always had a passion for business, and completed both an undergraduate minor and a graduate minor in business. She was persuaded to join VBMA her first year by an upper classman who told her that it would be the most worthwhile organization she could join in vet school. She has served on her local executive board as the Director of the Business Certificate Program and most recently as president, and is so excited to serve as the BCP Director nationally! When she's not studying, Kyleigh enjoys hiking, photography, traveling, and obsessing over her Covid cat Winnie.
Jack Miller
MARKETING DIRECTOR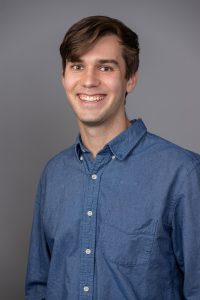 Jack Miller is a third year at NC State College of Veterinary Medicine. He was born and raised in Charlotte, North Carolina and attended Washington and Lee University for undergrad, where he received a bachelor's degree in Economics and played on the men's varsity soccer team. His professional interests include small animal medicine, surgery, ultrasonography, and practice ownership. His father is a small animal veterinarian, who opened and owns a small animal hospital. Jack was exposed to a variety of animal and reptile species in his father's hospital, and these encounters sparked his passion for veterinary medicine. As he grew older, Jack began to help with the hospital management and operations where he witnessed first hand the joys and struggles of being an owner. These experiences sparked in him a passion for business and a desire to teach others the importance of business in the veterinary industry. Upon arriving at NC State, he immediately joined the VBMA where he now serves as his chapter's Careers and Conferences Liaison and as a Co-Director for the Eastern VBMA Summit. From within these roles, he has enjoyed sharing with students the many benefits and experiences that the VBMA provides. He is honored to serve as the 2022 National Marketing Director and is excited to bring forth innovative ideas, explore uncharted territory, and invigorate students' passions for veterinary medicine.
Tiffany Galen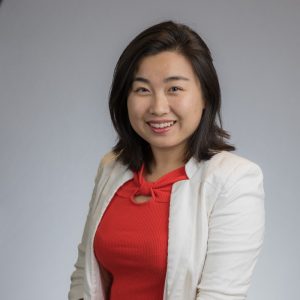 Tiffany Galen grew up in China before moving to Seattle, Washington at 11 years old. Watching pets treated as family members in America strengthened Tiffany's motivation to become a veterinarian and improve companion animal welfare across the world. Tiffany earned a B.S. in Biology and B.A. in Psychology from the University of Washington before transitioning to Colorado State University's veterinary prep program, where she earned an MS in Toxicology. Tiffany is currently a rising second-year veterinary student at Colorado State University. Her interests include business ownership, small animal general practice, and emergency care. Aside from a strong interest in companion animal emergency medicine, Tiffany is incredibly passionate about business and technology. She hopes to channel her passions into owning a successful veterinary practice in the future, using her story and experience to give back to the field of veterinary medicine. When not in school, Tiffany loves to travel the world with her pup, Cinnamon, and eat great food.
COMPLIANCE DIRECTOR
Officers

President

Vice President

Treasurer

Marketing Director

Compliance Director

BCP Director

2021

Lindsay Harris

Xanth El-Sayed

Courtney Mooney

Thomas Kile

Luci Krenzke

Jessica Meseck

2020

Sarah Montoya

Rachael Strauss

Jeffrey Lowenthal

Kelsey Pearce

Helena Montin

Kenzi Wattenburger

2019

Ricky Walther

Emily Farmer

Samuel Tucker

Amanda Sautner

Shiloh Landskov

Rebecca Mears

2018

Rachael Ostrem

Becky Beardall

Cody Land

Faith Ramsey

Rachel Katz

Abbey Earle

2017

Lance Kidder

Kate McDaniel

Jack Perkins

Joseph Kamper

Laura Philbin

2016

Jessi Kraemer

Zach Loppnow

Garrett Harvey

Kim Bocchiaro

Mikayla Schroeder

Jill Giunco

2015

Hatley McMicking

Jayme Cicchelli

Katie Bishop

Kristin Wuellner

Anastasia Handwerk

Emily Tincher

2014

Bridger Smithers

Brittney Dawson

Melania Lang

Brandon Thornberry

Caitlin Davis

Maggie Canning

2013

Rebecca Eddy

Stacy Bartholomew

William Hodges

Hannah Leventhal

 

2012

Kristen Britton

Jennifer Covington

Leila Herndon

Al Claiborne

Kristine Stellato

 

2011

Ashley Craig

Kate Boatright

Shamus Brown

Misti Nuxoll

Ilyssa Meren

 

2010

Nathanael Oster

Jeni Rogan

Christina Moore

Holly Stewart

Lily Nieh

 

2009

Juliette Hart

Steve Tousignant

Adam Berman

Cyndie Johnson

Mandy Wallace

 

2008

Kevin Finn

Ashley Stich

Ava Redig

Michael Jennings

Kaylee Yoshimoto

 

2007

Tonya Sparks

Vivian Koo

Kaylee Yoshimoto

Nina Kieves

Melissa Austin

 

2006

Andy Roark

 Deidre Weissman

 Natalie Barrett

 Colleen Tansey

 Tai Curry

 

2005

 Carmen Yeamens

 Kate Lobus

 Cassi Haslett

Secretary: Amy Graham Mohl 

 

 

2004

Meghan Stalker

 Raina Petrov

 Cassi Haslett

Secretary: Jessica Gentile